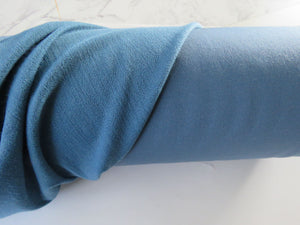 Colour: Temple Blue
Fabric content: 38% Merino 46% Polyester 16% elastane
This fabric has elastane for added stretch and polyester which helps with fabric stability and durability.
Fabric type : Sweatshirting with smooth finish to right side with a looped terry backing so it is soft against your skin.
Fabric weight: 250g
Width: 170cm- wider than normal as a manufacturers width.
Length: 1m
Stretch: Yes has good 1 way stretch.
Fabric: Sweatshirt Knit with terry looped backing.
Use: Great for hoodies, sweatshirts, tops. Nice for dresses, tunics and also for leggings as there is a little extra stretch both ways for a form fitting garment
Machine washable on a wool cycle.