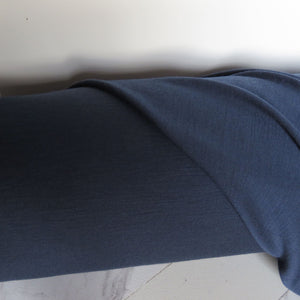 n50

Colour: Arlington Navy- the fabric is a dark navy blue but may look lighter in some photos to show the fabric details and texture. 
Fabric type: Interlock- this means it is a double knit so it looks and feels the same on both sides. It is smooth on both sides and does not curl on the ends. The interlock gives nice stretch and softness. This fabric is really soft and snuggly to touch.

Fabric content: 100% New Zealand Merino
Fabric weight: 250g- this is a warmer winter weight
Width: 150cm
Length: 50cm
Stretch: Yes has good 1 way stretch
Use: Tops, cardigans, dresses, tunics, jackets, sweatshirts, hoodies, swaddling, baby sleeping bags or blankets.
Machine wash on wool cycle or hand wash.